About

1991-1992
Salvage BV was founded by me and a co-founder in 1991. My electronics education and my business partner's sense of business proved to be a solid combination and it wasn't long until we were a known name in de Gouda region.
In many senses we did back then, what's hot today in the tech sector – the classic 2 key person tech startup -, but without the likes of kickstarter and YCombinator. We started out as a component level repair company for computers and all peripherals, and within 6 months we functioned as the technical service for several other computer company's in the region too. They would offer repair services to their customers, which were carried out by us.
1993-1994
During this period we moved into a more prominent location in the city. We opened a small showroom area, and added another technician to our team. Besides the repair services which were still our core business, we now also started supplying new computers to customers. During this time the Novell Netware was up and coming in the small business segment, and already having broad technical experience we quickly performed full service installations in this are – from pre-sales to laying out the physical cabling, installation and after-sales.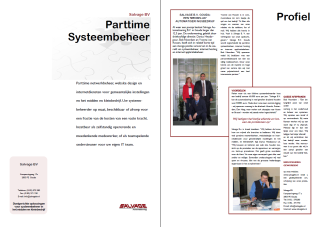 1996-1999
During the period running up to 1999 we moved several times into bigger location. A lot of shifts took place in (our segment) of the market and technology, which totaly changed the way we operated and the services we offered. Where we had a showroom area of over 100 square meters in 1996 which generated a lot of sales, at the end of that period the sale of computers had become a service article, and services and knowledge were our main excellences.
Novell Netware was quickly pushed aside by Windows NT and IP Networks, we were one of the first to also offer terminal services to our customers, then (still) based on Windows NT 3.51 and 3rd part extensions. Later on with the introduction of Windows NT4 and the terminal server edition this changed into the well known rdp based connections of today.
We stepped into internet services. By this time we were offering mainly part time system administration services ( pbc-2006.pdf ) to our customer base and the wide spread between internet providers was at that time still troublesome. Keep in mind, these were the early days of modem and (some limited) cable connections, and providers with often little clue to what they were doing. Salvage created it's own ISP services which kept in existing until late 2007 when the company closed it's doors.
Hardware became quickly more complex, and even more quickly more worthless. While we had a high technological level with an SMD reworking station enabling us to repair laptops and modern (PS/2 etc. at that time) computer boards, we realized that this part of the activity's had little future. The move towards a service and knowledge oriented company was important.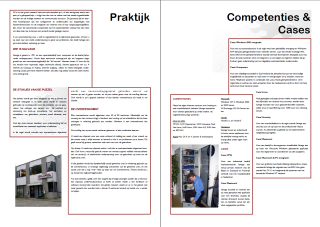 2000-2007
Having made the transition out of repairs during this period we specialized in offering the customer an all round system administrator and "it troubleshooter" for all his needs. Having a broad technical background in-house, internet services and a new hardware dealership in one hand made it very easy to prevent customers from having to deal with many party's in their daily IT needs. Didn't we have the service in-house? we arrange it for you if you want. It is OUR worry, and you never have to deal with many party's if you don't want to was our motto.
During this period we also moved into software solutions to some extend. While standard software packages can come with great advantages, many many company's struggle with the many bridges and gaps that are left between systems in basically all but the very small company's. Salvage BV produced several business specific software solutions that have been used for years, or are even still in use today. Examples of these are a solution for a hearing-aid company (many insurance companies with even more arrangements make advising and calculating in this area challenging), a complete postal mail registration system for a large support organisation – to which we added email in AND out registration options long before this became common practice- , and a large solution for meal and health monitoring in an elderly home.
This all proved successful and made us a decent living, and even though it never made us rich, we also evaded all the pitfalls during 16 years of changing markets and technologies that caught many other companies in the business of guard.
However, after 16 years of basically doing the same level of work over a broad range of customers things became a drag, and it started to show among the key members. After a failed attempt at selling us into a larger organisation in the end we disbanded the company and each went our way.
Downloads